3 Reasons Agents Never Find The Hidden Goldmine
by Chett Coombs, on July 21, 2016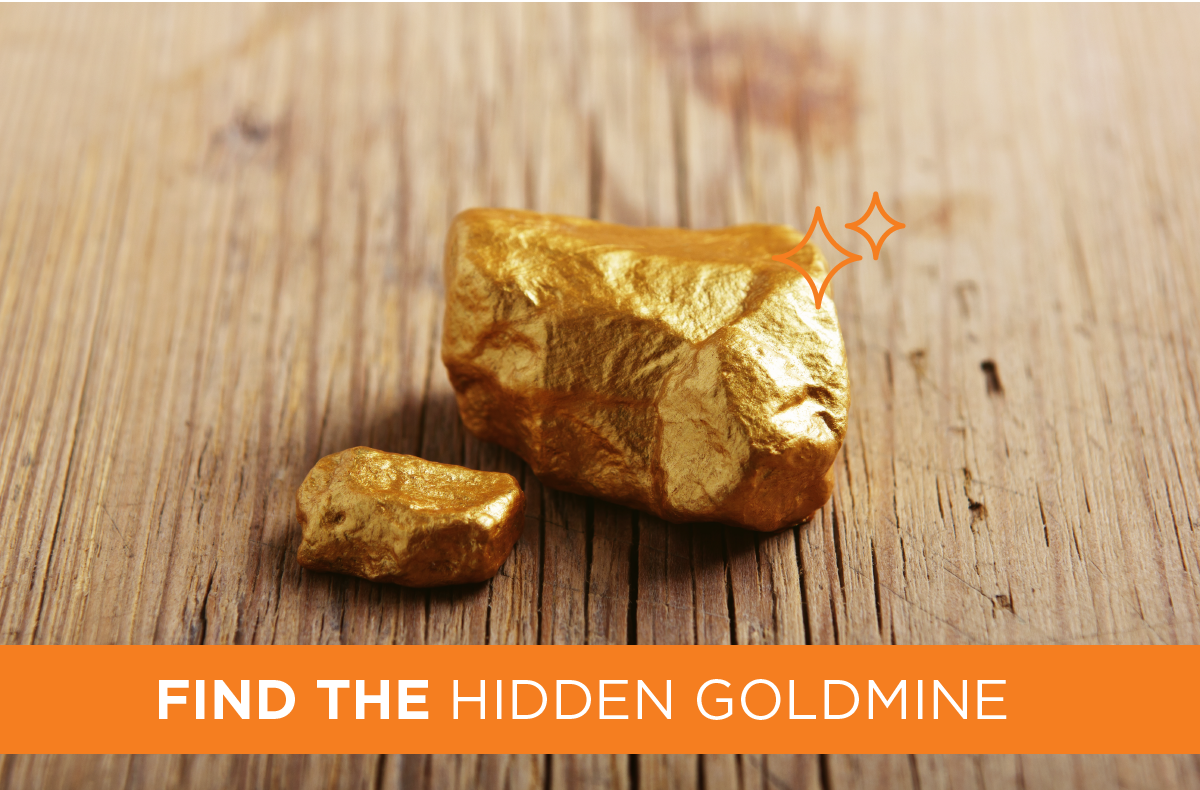 There is a good chance you are missing out on one of the best lead types.
Actually, the word " lead" is kind of misleading. Which may be why most agents never call them.
When an agent thinks of "leads," most think of a list of names that every other agent is calling too.
Goldmine is a better word to describe this type of lead.
Like a goldmine, it takes work. But also like a goldmine, the work pays amazing dividends.
So what is this supposed goldmine for real estate agents?
Expireds … the kind with dust on them.
More specifically, old expireds.
If you read the words old expired and the image of a cute, little old lady that just had her listing expire comes to mind, then this blog post may be the best post you read all year.
Old Expireds are listings that have expired for a year or longer.
Why did they expire?
There are a number of reasons a listing could expire:
Lack of effort from the homeowner (not preparing the house to sell)
Lack of effort from the agent (not bringing buyers, poor marketing, [insert a long list of mistakes here])
Decided not to sell
Dog kept biting people at showings
Home was priced incorrectly
Market conditions
Most agents are going to look at this list and think
Lack of effort from the homeowner I could have motivated them. They just need the right agent to show them the ROI of a little elbow grease
Lack of effort from the agent I see this all the time. I spend so much time on each listing and never let a listing expire because of my effort. My marketing is what sets me apart from other agents.
Decided not to sell My clients are always motivated to sell because I constantly deliver top dollar for their house.
Dog kept biting people at showings I would have muzzled the dang dog(just kidding!)
Home was priced incorrectly My listings are always listed at the right price to attract buyers, yet get top dollar for my clients.
Market conditions I've always performed for my clients, in good markets and bad.
If you thought something remotely similar after reading these statements, you're going to looooove old expireds.
You see, just like any other homeowner, old expireds listed their home for the same reason: to sell it.
When conditions prevented them from selling it, they more than likely felt the same as any other expired listing: frustrated.
Anytime you have a homeowner that is frustrated their house didn't sell, chances are they may be motivated to list again.
But for some reason, only a small percentage of agents use old expireds as a lead source.
Agents don't prospect old expireds for a number of reasons. Here are the main 3:
They are different, which people assume means difficult (HINT: that is false)
Don't know how to find old expireds
They've never heard of prospecting old expireds
1. They are different
Yep, they sure are different.
Guess what? Being different is a good thing.
Just take a look at what Mark Zuckerberg, Steve Jobs, and Elon Musk have accomplished by trying to be different.
Most agents will agree, you need to be different in order to set yourself apart and succeed, yet they end up doing the same thing over and over.
Here is a little secret: A simple way to be different is to do something different.
Doing something different doesn't mean they need to be more difficult.
Old Expireds, for example, could actually be considered easier just because only a fraction of agents actually prospect old expireds compared to regular expireds, which means you rarely, if ever, get "you're the 18th agent that has called me!!" type of phone conversations.
The script is also very simple. Here are a couple variations:
I saw you had a home on the market [time period] and it looks like it didn't sell. Is that correct?
I was wondering if you have considered putting it back on the market?
Or something like this:
I saw you had a home on the market [time period] and it looks like it didn't sell. Is that correct?
You've probably been hearing about that how fast homes are selling right now and how high values are. I've seen homes like yours going for [price range]. Did you know your house could sell for that much?
Where would you move to if you sold your house for that much?
If you have any interest is selling in the future, now is a great time. Can I bring some a market analysis by and show you some of these homes that are selling?
Here is another good script from Kevin Ward.
Yes, you may need to call a lot more leads for a listing appointment, but you will not encounter near as much competition, which means the majority homeowners will typically be more receptive on the phone and more likely to refer neighbors or friends your way.
2. Can't Find Old Expireds
Finding old expireds is relatively easy. Here are the steps:
1. The first step is to look into which year had the highest amount of inventory within the last 5 years. For example, 2009 - 2011 were pretty rough years to sell a home.
2. The next step is to get into your MLS and dig out every:
old expiredold cancelledold withdrawn
3. Find contact information
You should be able to get the name and address of each old expired from your MLS. The phone number, however, will rarely be listed.
That gets a little more tricky.
You can spend the time finding those numbers using county and city records, but its extremely time consuming.
Your time should be spent calling prospects, not looking up county records for phone numbers.
There are many lead generation services that can help with this.
Landvoice, for example, specializes in old expireds and actually filters against any homes that were eventually sold, currently active, or a foreclosure.
Find a lead provider that will provide the phone numbers so that you can spend your time on the phone, not looking up data.
3. Have Never Heard About Old Expireds
Its true, as awesome as old expireds are, many agents have never heard about using them as an opportunity to find listings.
Which isn't necessarily a bad thing for you. Less competition, right?
Lucky for you (because you're reading this article), you know about old expireds.
Now stop waiting and get going. Pull your old expireds out of your MLS and start a direct mail campaign, hitting the doors, or making calls.
The big question is not whether you should start calling old expireds, but whether you should share this article on social media.
Landvoice solutions offer subscription services to get you over the hump from calling expired listings to doing business entirely from happy client referrals. Bundle subscriptions and save—not only time, but money. Landvoice is the one provider you need that offers services like Neighborhood Search and Call Capture, which generate leads, to effortlessly supply you with expired MLS leads and FSBO leads right to your inbox. Choose Landvoice and you'll save valuable time that you can dedicate to taking your business to the next level.