Decide Which Buyers To Work With
by Bruce Keith, on November 14, 2016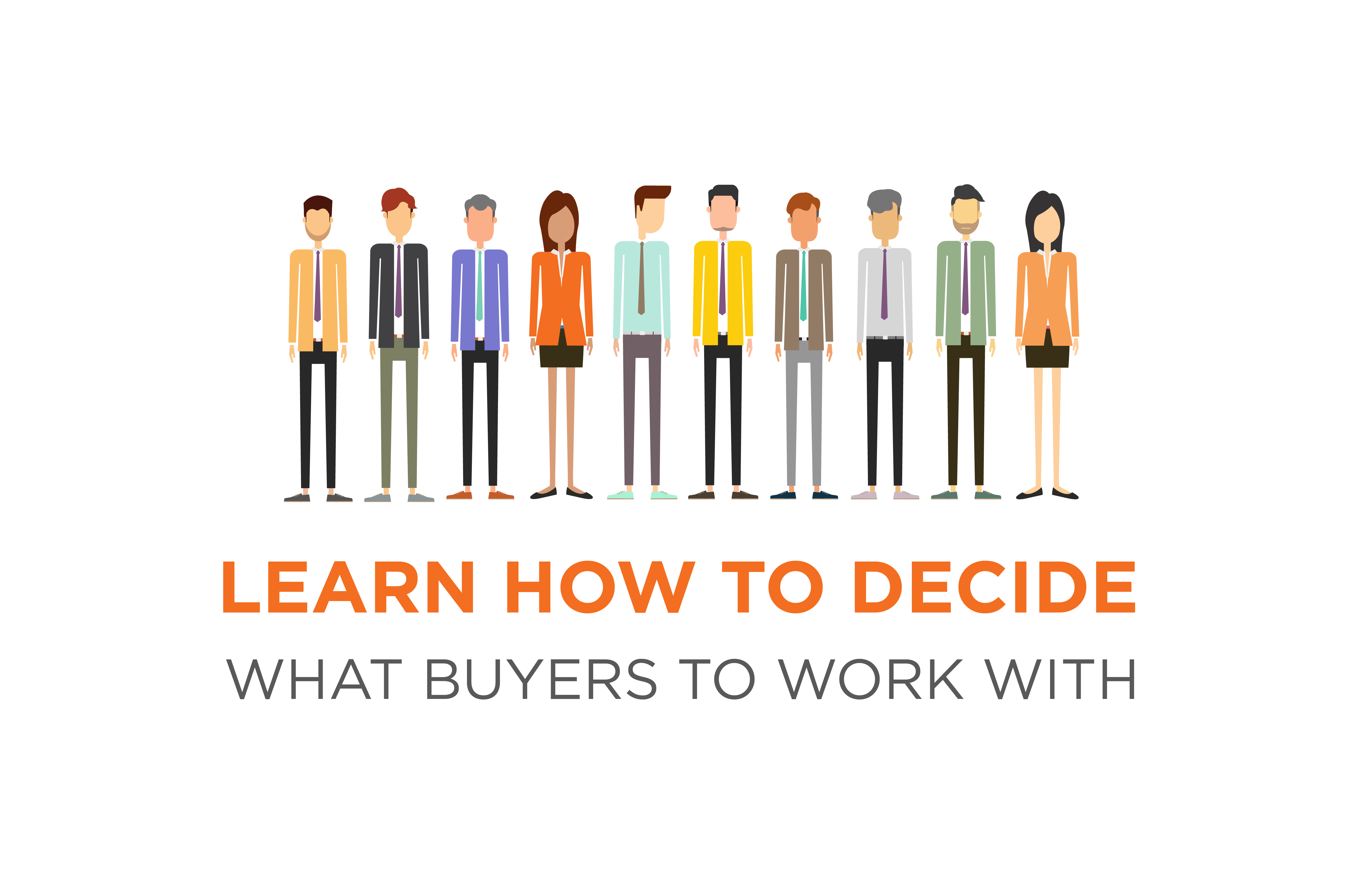 When you are consistently looking for business, sending out the right signals and asking the right questions on a daily basis…there will never be a shortage of Buyers who need you. You will definitely find them.
Here's a pleasant realization… The challenge is not finding prospects to work with… The challenge is this – "Who will I choose to work with?". In other words, put yourself in a position of being selective. You can easily be in charge of what Buyers you are going to share your skills and your knowledge with.
Start with this basic approach. There is a predictable cycle that all real estate Salespeople go through:
You start by having no prospects at all
You then lead generate and begin to load up your "conveyor belt"
Your list of prospects starts to grow
You now have to decide… Who deserves to stay on "my conveyor belt"?

At this point it becomes obvious that you can't work with everyone – more importantly, you shouldn't try to work with everyone. This isn't a "one size fits all" business. So how do you decide?
You have to follow a set of Minimum Standards. Here's the formula:
There are some basic criteria that your Buyer must meet to qualify to work with you:
1. The Ability to Buy… Are they in a position financially to make the purchase?
2. Motivation… Do they really want to go ahead? Are they a now Buyer or a "looker"?
3. Realistic Expectations… Does what they're looking for exist in the marketplace? Your job is to educate them about the realities of price, value, and availability.
4. Timing…Do they have a sense of urgency? Avoid those individuals who say that "we are not in a hurry, you know". Keep them on your longer-term follow-up list – you are looking for those 30 – 60 day Buyers.
5. Your "gut feel"… Be strong on this point – are they pleasant to work with? Is there mutual respect? An interesting question to ask yourself… "How do they make me feel when I interact with them?"
There's nothing wrong with being selfish with your time. Think of your overall objective – why am I in this business? Does this Prospect meet my standards in working towards my ultimate goals?
Now comes the tricky part – should you start off this way or should you or your standards into you get busy? The best Salespeople have high standards right from the start. Let's face it… You don't go to the doctor after you get healthy, right? Have the confidence to say no sometimes.
Here is your Action Step…Unless this is your first day as a real estate Salesperson it's probably prudent for you to do some housecleaning. Who should you get rid of right now? Everyone you work with should pass the above 5 criteria.
Decide to only work with Buyers who meet your minimum standards. If they don't, then do yourself a big favour. Cut them loose and spend time looking for someone who does meet your standards. Don't try to fit a square peg into a round hole. The only reason that real estate Salespeople work with unsatisfactory buyers – the "time vampires" – is because they don't have better leads.
You are in charge of your success. It starts by choosing the right people to work with. Take the time every day to prospect for Buyers you want to work with. Don't forget to "treat yourself with respect" – you deserve that. NO Excuses.
Landvoice solutions offer subscription services to get you over the hump from calling expired listings to doing business entirely from happy client referrals. Bundle subscriptions and save—not only time, but money. Landvoice is the one provider you need that offers services like Neighborhood Search and Call Capture, which generate leads, to effortlessly supply you with expired MLS leads and FSBO leads right to your inbox. Choose Landvoice and you'll save valuable time that you can dedicate to taking your business to the next level.