How to Maximize Your Time at Mega Camp
by Evan Johnson, on August 8, 2018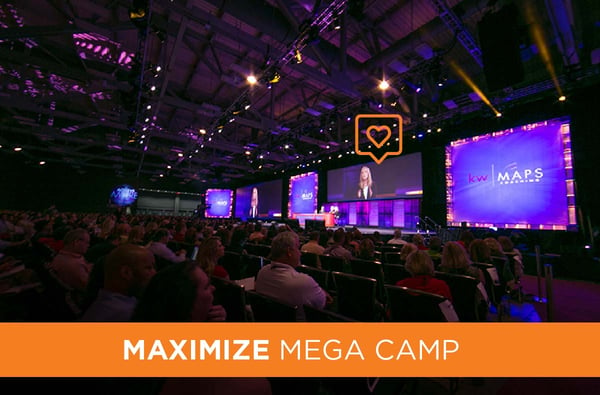 So you're going to Austin!
Attending Mega Camp is one of the smartest moves you can make as an agent. There's no better place to learn from the industry's top mentors, connect with other associates, and to discover new vendors that will make you more successful. At Landvoice, we truly want you to have the best experience possible--to completely maximize your time at Mega Camp.
We've been a part of Mega Camp for years, and along the way have learned a few tips and tricks. Check out our list of things to do before, after, and during the show. We've also included some of our favorite things to do and see in Austin, so you can make the most of your time both during the day and after hours.
Check them out and let us know if you have any questions!
Before
Know Before You Go
Just like any conference, at Mega Camp there will be so much to see and not enough time to do it all. This is where planning ahead comes in! Check out the schedule and decide which speakers you want to see and which vendors you want to visit. Find out where you check in, when the main keynotes are, and decide which activities and restaurants you want to try while in town (more on that in a minute!)
Divide and Conquer
Are you coming to Mega Camp with a team? Split things up amongst yourselves. Give different team members assignments to attend certain speakers, talk with specific coaches, and visit various booths.
During
Build Relationships
One of the biggest benefits of attending Mega Camp is building relationships with other KW associates from around the country. Think of it this way: often times an agent's seller may need help finding an agent in the location where they're moving. As you know, many agents will give referral fees for helping them secure these clients. This is a great time to form these connections! Be sure to bring business cards and don't forget to connect with other associates on social media.
Discover Better Tools (and Save $)
No matter what you're looking for, including generating more leads, tracking the transaction process, organizing your business more efficiently, or growing and supporting your team, there will be vendors to help you at Mega Camp. Be sure to visit each one, regardless of any preconceived opinion you might have about their services. Check them out! Chances are, they will be able to do much more for you than you ever thought possible. Many will even give you a sizable discount for trying their services at the event.
Share on Social
You've probably told some of your clients that you were going to be out of town, so why not document it for your friends and followers to see! Share what you've learned and the exciting things you've done.
Remember What You Learn
Make sure you keep track of what you learn while you're here. Take detailed notes so that you will be able to return home and implement everything you've learned. Consider using some sort of color coding or sticker system to make it simpler. Whether it's using classic highlighters, each color for a different topic, or finding your favorite note taking app, this will make your life so much easier.
Engage with Speakers on Social Media
Love a certain class or speaker? Let them know! It can be super easy to connect with your favorite thought leaders through social media, texting, or emailing. This could be the beginning of a very beneficial connection.
Stop Working
Conferences like Mega Camp are a change to work ON your business, not IN your business. Really dive in while you're here and leave the distractions at home. While it's great to use your phone for note taking and networking, avoid constantly checking your email and listening to voicemails while you're here. Instead, really focus on learning how to find more clients and how to offer better service to the clients you already have.
Try Some Delicious Austin Food
Austin is known for its food. No matter what you're in the mood for, you can find it here. Here are a few of our favorites:
See the Sights
While in town, make sure you take time to see a few of the sights that keep Austin weird.
Enjoy the Nightlife
After a long day at the convention center, who doesn't want to enjoy some time at one of Austin's nightclubs? No matter what you're in the mood for, Austin is home to 200 different venues offering rock, jazz, hip hop, blues and Latin shows.
Relax in the Beautiful Outdoors
While at MegaCamp, you'll definitely be spending a lot of time inside. A visit to Austin wouldn't be complete, though, without exploring some of the city's beautiful outdoor spaces.

After
Reconnect with Your New Network
You met a lot of great associates while at Mega Camp, but they did too. Make a lasting impression by sending an "It was nice to meet you and I'm looking forward to _______" text, tweet, or FB message.
Stay in Touch with Coaches
If you didn't already at the show, go ahead a make a list of action items you made with the various coaches and send it to them. They definitely have a lot on their plate, so a little extra reminder won't hurt. And this will remind them (and you) of what you discussed and keep you both accountable.
Take the Next Step with Vendors
You've probably been in this situation before: you go to a show, meet a lot of great companies, and are super excited to make things happen. But once you go home, life gets busy, and a few months pass without any changes. Don't let this happen this time! Right when you get home, review your notes and sign up for the trial accounts you want and get in contact with those vendors you're most excited about to make the next steps.
What Now?
Now that you've read through our suggestions, pick your favorites and make them happen. From all of us at Landvoice, we hope you have a great time at Mega Camp!