Prospecting Expireds: 7 Tips to be Successful
by Chett Coombs, on April 25, 2016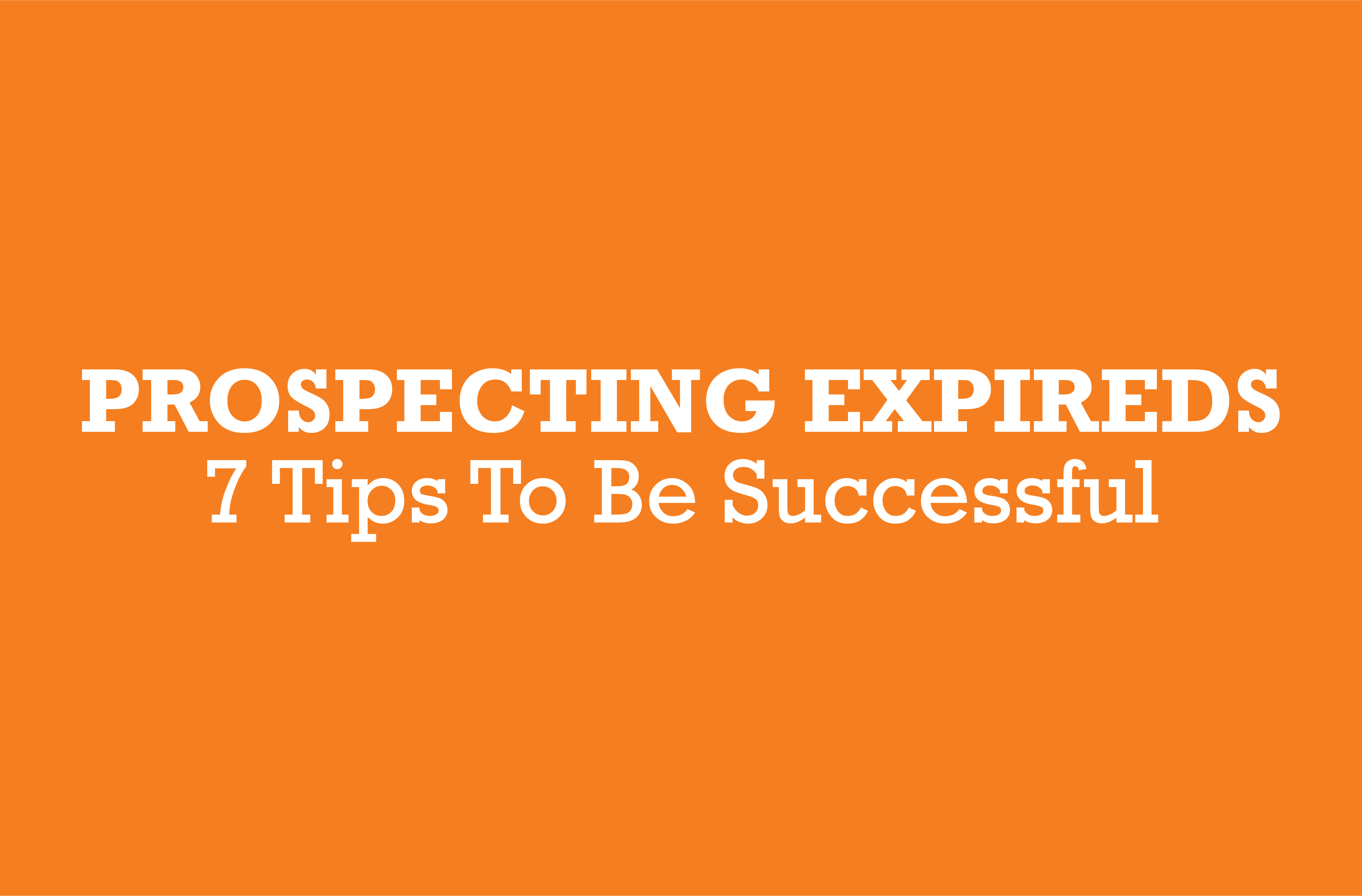 "I don't like Cold Calling"
Those are 5 words that come out of the mouth of both new and experienced realtors. Nobody likes calling cold leads.What is a cold call? That depends on how you look at it. Most people consider calling someone with no prior relationship a cold call. Is calling family and friends that you know are not planning on buying or selling a home really a warm call? Is there a relationship? Yes. But is that a warm lead? No, its not even warm enough to consider a lead. A warm lead is someone that is wanting to sell their home. A really warm lead is someone that desperately wants to sell their home and is frustrated it hasn't sold yet.With that perspective, the warmest leads are undoubtedly Expired listings. Not only did they already try to sell their home, but they are frustrated that after 6 months of keeping the house squeaky clean for showings, their house never sold. Use these 7 Power Prospecting Tips for contacting expired leads.
Tip #1: Commitment & Attitude
Commitment is the first step, and the most important step, in being successful with expired leads. Success doesn't happen overnight. Making a honest commitment to using expired leads to drive your business will ensure that you don't give up during the learning curve and will give you the motivation to keep going until its a steady income source.Make the commitment early on by scheduling time every day to make calls and practice scripts. Your leads from Landvoice will be available at 8AM every morning. At a minimum, schedule 2 hours every day to call expired leads. By starting to call at 8AM, you can be assured to be one of the first agents on the phone with expired leads.Having a positive attitude can be the difference between being successful or not. Real estate is sales at its finest. A great sales person will get many NOs before they get a YES. Have the attitude that every NO is one step closer to the next YES.
Tip #2: Do it
In an interview with KW Coach Brian Icenhower, KW Mega Agent John Harris said "when I was new to real estate, I saw a video of a highly successful agent that did more that 50 million a year making his call to expired leads. He didn't have a particular talent, he wasn't dynamic, or super outgoing. There wasn't anything special about him or he way he said what he said. He just did it. He knew his scripts and he just said them. That let me know that anyone can do it." You will get results by simply sticking to a proven system, regardless if you have great people skills or not. Contact your Landvoice Success Coach if you need a great script.
Tip #3: Practice
A report given by KW reads that "agents who excel with FSBOs and expired listings make a point to role-play, practice, and have good scripts that can overcome the objections of the homeowners that they come into contact with." Scripts are designed because they have proven to produce results. Scripts can be practiced with another agent, a spouse, friend, or even in front of the mirror. The key to memorizing a script is repetition. With enough repetition, the script is no longer a script, but becomes part of your natural selling vocabulary.
Tip #4: Be Creative
Calling customers can be the best use of your time, but what if you can't get a hold of them? Finding creative ways to contact expired leads can set yourself apart from other agents. One agent used a mailing system to reach out to expired listings and create better name recognition for when he called.While more time consuming, other agents have a ton of success contacting expired leads the old fashioned way: pounding the pavement. People like familiarity. If you've been calling or leaving voicemails with a potential client, putting a face with a name can go a long way. Put yourself in the homeowners shoes. They have spoke with dozens of agents over the phone since their listing expired. When you stop to "introduce myself because I was in the area," it puts a face with a name and builds more trust. Meeting someone face to face will always build the relationship. Plus, its really easy to say, "Looks like you have a beautiful home, do you mind showing me the place while I am here?"We live in a day when people text message as a primary source of communication. When you consider that 90% of all SMS are read in 3 minutes (link), why not send them a text message? Your BOLD trial of Landvoice Expired will provide some cell phone numbers, but Landvoice can provide between 90-95% of phone numbers, including cell phones, with Expired Pro.
Tip #5: Listen
Many expireds are getting calls from agents all saying the same thing, "list with me, I've got a proven track record, I can sell your home," but all the homeowner hears is "I am an real estate agent like everyone else." Take the time to ask questions about their concerns and their dreams, then offer a solution. Very few agents do this. By taking the time to listen to a homeowner, not only are you able to find a better solution to them, but you are a building a relationship of trust.
Tip #6: Practice (part. 2)
No, this is not a typo. Practice is important enough to have two sections.Agents can practice a script until it becomes part of their conversations naturally. However, objections require constant practice. Why? Because everyone can have an objection that is unique to their situation. It is important to take detailed notes of new objections to discuss with other agents. Not only can other agents offer potential solutions to help overcome that objection, but they may have encountered it before. Practice overcoming these objections over and over. The Lead Gen Scripts and Objections Facebook group is a great place to ask for help overcoming objections and improving your script. The more time you spend practicing different objections, the easier it will be to find a solution to help overcome new objections you face in the future.
Tip #7: Follow Up
Many agents contact expired leads on the first day, but most agents will stop following up after 2 weeks. Sometimes a homeowner will not want to speak with an agent because of the large amount of calls they get after their listing expires. Once those calls decrease, they are generally more open to speaking with agents, particularly the agent that has politely stayed in touch week after week.Use your Landvoice lead management system or another CRM to schedule the next follow up date for each expired lead. If you say you will call them on a specific day and time, then call them on that specific day and time. Following up on a day that is convenient to the homeowner shows them your commitment and consideration of their circumstances.How long should you follow up? Some agents will say the longer the better. 2015 was a year with low inventory. What about 2011 and 2012? Those years had high inventory, thousand of which never sold because of low property values or other circumstances. Fast forward a few years of great economic growth and those expired listings have become great leads to call. The script is simple. "Hi, I noticed you listed your home back in 2011 and it never sold. A lot has changed in the last few years and property values are at an all time high. Have you considered selling while home values are so high?" Don't have old expired leads? Landvoice provides Old Expired leads that give agents exclusive rights to specific zip codes and years.
Free Data Look-Up
Every market is a little different, do you know which homeowners are most likely to sell right now?. Let us look up the property data for your area for free and let you know where you should be focusing your time and energy.
Landvoice offers subscription services to get you over the hump from prospecting meaningful FSBO listings to doing business entirely from happy client referrals. Bundle subscriptions and save—not only time, but money. Landvoice is the one provider you need that offers services that send FSBO and expired leads directly to your inbox, and Call Capture, which gives you unique, unlimited phone extensions that capture potential buyers' information and sends the contact directly to you via text message. Choose Landvoice and you'll save valuable time that you can dedicate to taking your business to the next level.