UPDATE | Neighborhood Search
by Bert Compton, on June 23, 2022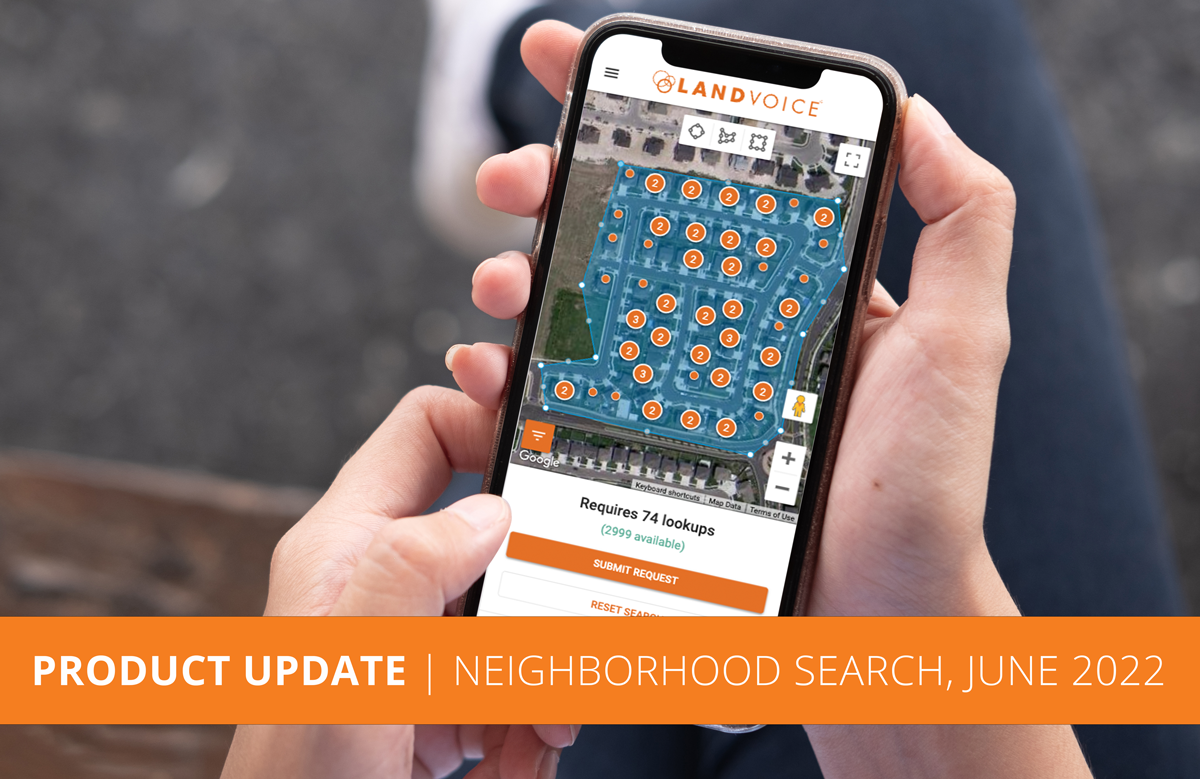 Save time exporting lists and protect yourself at the same time!
Now you can spend more time creating connections with new customers and less time organizing information thanks to the new improvements to Neighborhood Search.
Neighborhood Search is a quick and powerful tool to create custom lists of homeowners for your CRM. It's also used by so many agents to create calling lists for their dialer. Now you have more control of the data you see and export so you can focus on listings.
Here's what we've recently added to make your real estate life easier.
Do Not Call filter
You've probably heard of someone in the industry that has faced legal issues because they called and bothered a homeowner that listed their phone number on the National Do Not Call Registry. While Landvoice has always sought to protect agents by indicating every phone number on the National DNC list, we are making it even easier to avoid those numbers all together.
Now, with the click of a button, you can easily EXCLUDE all phone numbers on the National Do Not Call Registry from your lists. Use this when creating calling lists right in the app and when creating phone lists to export for your dialer or any other calling tool you might use. Here's a short video to see how to use this feature.
Customize lists for export
There are a lot of software applications available to real estate agents to help you grow and manage your business. If you have tried to import information from other apps, like Landvoice, into any of them, you know that they all have different format requirements. You know it can be a pain in the you know what to get your data ready to load into your dialer or CRM. Not anymore. Now you can easily pick only the data you want from your searches and organize it right in the app. Then you can use the improved export feature to grab your custom formatted lists to use in your other applications. You can also create your own templates to make it easy to reuse your formatting whenever you want. Watch this short video to see how it works.
Improved print and export features
Printing and exporting your lists from Neighborhood Search just got easier. Whether you're printing your data so you can walk a neighborhood to meet homeowners; or creating mailing labels for postcards and letters; or exporting data to be uploaded into your CRM or dialer; it's a snap with our improved Print and Export features.
Just open one of your lists then click on Print/Export in the top menu. You will see a new popup box with following new options.
Labels. Now you can print directly to the most popular Avery© mailing labels directly from the application.
PDF. It's easy to print nicely formatted lists that are perfect for sharing with your team, or for keeping in a prospecting binder (you might be surprised how many agents still do this 😀)
CSV. Comma separated value (CSV) files are great for uploading into directly your CRM, a dialer, other automated marketing applications, and for creating spreadsheets.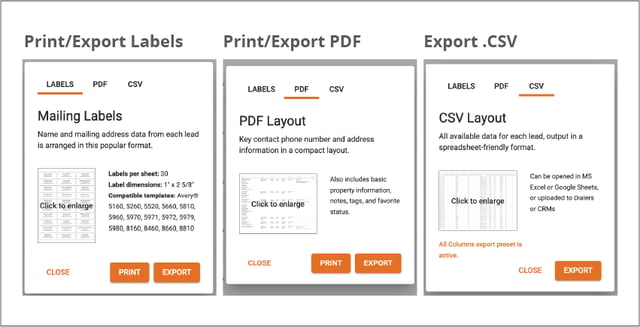 Try Neighborhood Search for free
Still haven't tried Neighborhood Search? Now's the time to try it for free. Your free trial includes 500 free search results that don't expire until you use them all. Start building better marketing and prospecting lists. Learn more.
Still have questions?
We're happy to help. Schedule an appointment to meet with one of our support team to discuss the data in your area.
Neighborhood Search is available as part of any Landvoice subscription. Go to our Pricing Page to learn more. Call 888.678.0905 to set up your account today.
---
Be sure to check back for more information about product updates and other useful information to grow your real estate business. For more tips, check out more articles in our real estate advice blog.