UPDATE | New Pre-foreclosure data
by Bert Compton, on September 27, 2021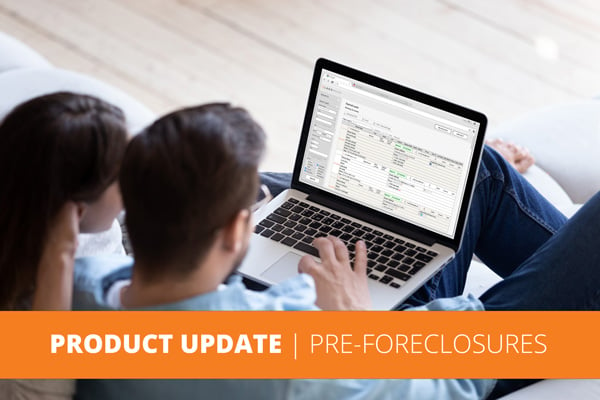 New data added to Pre-foreclosures
We have added more data to our Pre-foreclosures to improve the number of records for different parts of the country. Watch this video to learn more.
Video Transcript
In this product update we added Trustee Sale data as a new type of data that is now included in subscriptions in some areas around the country.
Here's what this means and why it's valuable:
We already collect and upload Lis Pendens and Notice of Default data, but not all states and counties publish those notices publicly. By adding the Notice of Trustee Sale data, many areas around the country will see an increase in the number of imported Pre-foreclosure contacts to their accounts. If you work in one of these 20 or so states and have not seen many pre-foreclosures, this new update will help you a lot.
Here's what to look for:
Here in the labels across the top you will see a new field called Type. The Type - indicates the type of pre-foreclosure notice that was published.
There's Lis Pendens, which is Filed by a lender, and is the formal notice to starts the foreclosure process. Even though this is considered a pending lawsuit, the homeowner still has possession of the home and the right to sell or refinance the property. Lis Pendens is used in judicial states. If you work in a judicial state, you will continue to see Lis Pendens here.
There's Notice of Default, which is very similar to Lis Pendens but is the notice used in non-judicial states. Again, if you work in these states, you will continue to see Notice of Default data.
And the ALL NEW - Trustee Sale. A Notice of Trustee Sale is the final written notice that a lender has scheduled a date to sell a home in a foreclosure auction. It's important to understand that when a homeowner receives any type of notice of default or a notice of trustee sale, there still may be time to stop the foreclosure process, but homeowners and the agents that help them should act quickly to save a home from foreclosure.
Here are few items that will help you more effectively use the new Trustee Sale data.
First, look at the Publish Date, this indicates the date Landvoice added the information to your account from a public notice. There is usually a delay between the time the notice was recorded with a county and when we have access to that public information. Click on More Info to see the date the notice was recorded.
Next, look at the Auction Date, this is when the property is scheduled to go to auction. This is important. You will notice that sometimes there may only be a few days between the Publish Date and the Auction Date, which doesn't give you much time to help this homeowner. However, many of the Auction Dates are 30-90 days out from the Publish Date, which should give you more time to help this homeowner avoid foreclosure. The Auction Date is only used for Trustee Sale notices and will be blank for Lis Pendens and Notice of Default.
Remember, when working with homeowners that have formally entered the foreclosure process, it's very important to understand the local laws and how to legally stop the foreclosure sale. Be sure to check with your broker before you proceed using this information.
A couple of good tips when working with pre-foreclosure data. First, You can sort your data by clicking on the column title at the top. This makes is easy to see the properties with the Auction Date further in the future at the top of the list. Also remember you can click on More Info to view other helpful information about the property.
Another tip. Depending on how frequently you check your pre-foreclosure information. You may want to change the date range of the data displayed so you can see more records. The system default is to only display the last 7 days. Go to Search leads and change the From and To dates to see more data.
Be sure to download our helpful script for what to say to homeowners that are in the process of foreclosure. There is definitely a better approach than what many agents have been taught to say when working with these homeowners. Our proven approach let's the homeowner keep their dignity and positions you as their ally.
That's it for this update. We hope it enables you to help more homeowners and list more properties.
Pre-foreclosures are available as part of any Landvoice subscription. Go to our Pricing Page to learn more. Call 888.678.0905 to set up your account today.
---
Be sure to check back for more information about product updates and other useful information to grow your real estate business. For more tips, check out more articles in our real estate advice blog.